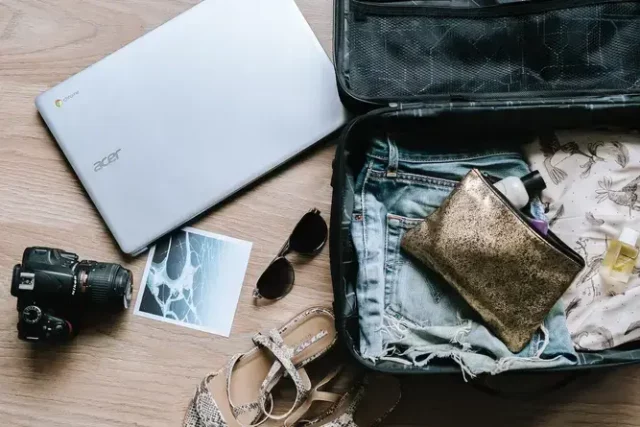 If you want to have stress-free travel, it is essential to avoid bulky cramped luggage. Always avoid carrying unnecessary items and carry only the stuff that you are planning to use during your trip. Heavy bags restrict your movement and can be a headache during check-ins. You can easily optimise the luggage space by carrying light clothes, and bare minimum essentials to have a relaxed travel experience.
Here are some packing tips to help pack smartly:
Items to be packed for your trip:
It is very important to items as per the climate and weather conditions of your destination. You need to pack Essential items like clothing that is suitable for the weather (summer or winter), and gadgets like laptops, earphones, headphones, chargers, power banks etc. Don't fold your clothes rather roll them to save space and avoid wrinkles, and stuff your socks inside the shoes and hats.
How to pack electronics and other fragile items?
Use travel packaging items or containers to keep all your fragile items safe and secure. It is safer to carry in your hand luggage to make sure the items don't get damaged during transit. Also, pack all your toiletries in a safe toiletry bag to avoid any spillage.
Avoiding extra charges

It is important to check the baggage policy, excess fees, and weight limits. If possible, try and avoid taking extra electronic devices. It is also wiser to weigh your bags before you leave to avoid extra charges.

Always have an extra carry-on bag

During travel, one needs to go from one destination to another for which it is important to carry an extra carry-on bag for ease of movement. Backpacks can be really handy for such purposes where you don't want to carry heavy bags.

Get your travel Insurance

Life is unpredictable and one can get sick during travels as well. So, make sure you have your travel insurance before embarking on your trip which will be extremely helpful if any emergency arises. Opting for short-term health insurance policies is a good idea.

Medications

Be sure to carry all your important medicines, the regular ones as well such as medicines for cold and flu, fever, diarrhoea, cuts, bruises, etc.

Carrying cash is essential

Cash should be carried at all times while travelling since many places don't accept cashless transactions. Also, in times of an emergency, cash can help you act swiftly.
In conclusion, travelling needs a lot of planning while deciding on places to go, budgeting, packing for the trip, etc. Make sure you don't have to worry about anything at the end moment. To be able to have hassle-free travel all you need to do is plan ahead and make arrangements accordingly.