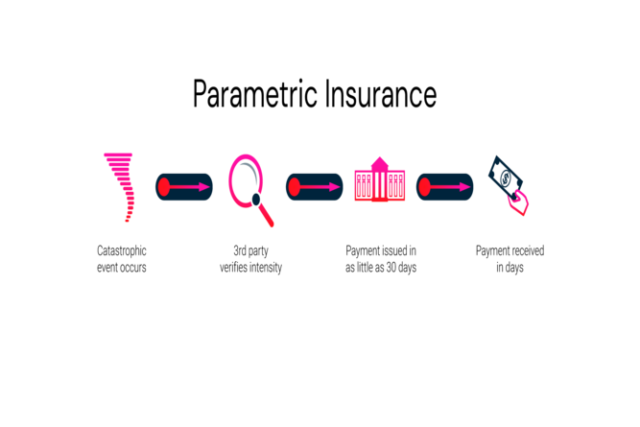 What is parametric insurance?
Parametric insurance is also termed index-based insurance. It is a special non-traditional insurance coverage offering pre-specified payouts depending on certain specific trigger events. These trigger events depend on the nature of the concerned parametric plan. It may include environmental triggers like rainfall, wind speed measures, or any business-related triggers like foot traffic.
Parametric insurance covers you against any specific event if you pay a fixed amount, depending on the level or magnitude of the concerned event, as opposed to the losses incurred in a conventional indemnity plan.
Important components of parametric insurance
Parametric insurance is noted for its simplicity. It is composed of two basic components:
A specific pre-defined event occurring and reaching a certain magnitude
A reliable and independent third-party offering critical information related to the event is crucial in this context. It forms the basis of the payout under this category, maintaining complete transparency.
Advantages of parametric insurance coverage
Some of the basic advantages of parametric insurance coverage include:
Competent pricing: One of the most notable benefits of parametric insurance is that it offers budget-friendly rates compared to traditional indemnity plans.
Enriched knowledge: Both the insurer and the insured maintain transparency regarding the associated risks and gains of the concerned plan. Moreover, another important aspect of parametric insurance benefits is that they offer fixed liabilities. Therefore there remains little ambiguity in liability calculation for the insurer. This comes in handy for severe but low-frequency trigger situations.
Innovative and customised plans: Parametric insurance is comparatively far more flexible than any conventional indemnity cover. Depending on your requirement and preference, you can design your plan according to your own terms to a significant extent. The validity tenure may range between a few months to years, depending on your choice.
Simple underwriting: Easy pricing promotes simple underwriting. These insurance policies offer capped and fixed payouts depending on the pre-fixed trigger rates. This enhances the sales limit, reducing the effective time requirement of a policy quote.
Enhanced customer experience: Parametric covers are fast by nature and offer guaranteed delivery, thus enhancing the overall customer experience. The customers are well aware of the payments and payouts and the conditions under which they are implemented. Moreover,t the customer care service is also very competent and user-friendly.
Fast payout: For traditional insurance policies, the process of determining the extent of physical damages and the amount of payouts is still critically slow. But, parametric insurances are very fast and settle claims within a few days of the occurrence of the trigger event.
Parametric Insurance in India
In the Indian insurance market, parametric insurance is chiefly utilised for coping with unprecedented natural disasters and unfavourable weather conditions. The popularity of this insurance has been boosted especially after the pandemic breakout back in 2020. The Indian government was one of the first global administrators to adopt parametric protection for saving the country's agricultural sector.
Some of the most significant examples of Indian parametric insurance coverages include:
Arya Collateral, a post-harvest solution provider, has collaborated with the AICI, for launching a special weather-based parametric insurance tool exclusively crafted for the warehouses
HDFC Ergo offers a unique Rainfall index insurance cover for people belonging to the farming sector prone to be affected by unfavourable rainfall conditions, covering for reduced yield.
Conclusion
The parametric insurance sector is supposed to see promising growth in India, especially in the rural and agricultural sectors under the Model Insurance Village program launched by the IRDAI. Enhanced technological advancement will ensure better analyses and ensure an enhanced proxy rate of the actual amount of losses incurred.